Joy Barnes Fine Art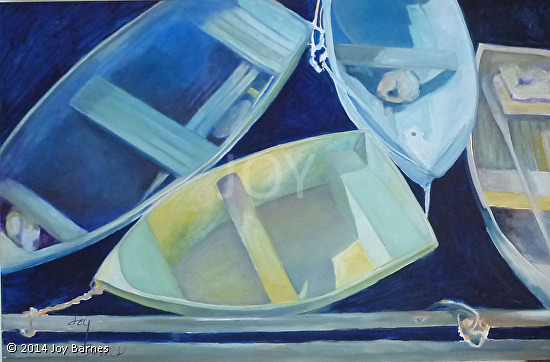 Joy Barnes plans for 2013.
Every year I spend as much time as possible in Maine. The light and the colors are excellent there. Seeing the design of boats in the water especially inspires me to paint.
You can see more of my paintings in the Arceneaux Gallery located in Homewood of Birmingham, Alabama.
2013 Exhibits
My schedule for this year are the following shows:
. Lehigh Art Alliance Spring Show -April 13 - June 9, 2013 Banana Factory, Bethlem, PA
. Lehigh Art Alliance's Simply Abstract Show - May 5 -May 28 2013, Bethlehem, PA
. Art in the Park - Allentown, PA - June 15, 2013 3rd place award in oil painting - See Susan Kalan's online art blog on WFMZ featuring me
. WCSH6 show - Portland,Maine - August 24, 2913
. Labor Day Show - Cape Elizabeth, Maine - September 1, 2013-rain date-9/2
. Saco Bay Artist Show - Old Orchard Beach, Maine - Aug. 31, 2013 First Place in Painting
. Bluff Park Show - Birmingham, AL - October 5, 2013
. Space Coast Show - Cocoa Beach, Florida - November 30 and December 1
. Jewish Community Center - Allentown, PA - Jan. 9 - Feb. 21 - Reception -Jan. 9